Best Video Conferencing Equipment
The best video conferencing equipment you need for your business — cameras, speakers, microphones, TVs, etc. — is much different than what you'd need to video chat with grandma in Seattle.
More than anything, finding the right hardware depends on the size of the room where it will be used. As a room gets bigger and the number of participants increases, your video conferencing hardware needs to scale in order to conduct a clear, productive meeting.
Below is a look at what to consider by conference room size, from very small to really big. We also provide a variety of recommended products and explain how to find brands you trust.
Small Rooms (for 5-6 people)
If you're in a very small room that's designed for one-on-one meetings, a simple Logitech camera and display speakers should suffice. Since there will only be one person on your end of the meeting, you don't need to worry about squeezing a bunch of people into the frame or inconsistent audio quality.
Smaller rooms that can only fit about five to six people will need a wide-view camera and a microphone that can clearly pick up voices from only a few feet away without any feedback. In other words, the built-in camera and microphone in your laptop or speakerphone won't do your meeting justice.
Our Equipment Recommendation
With an AVer CAM340+ 4K camera, you can choose between a wide field of view at 120° or 94° to improve your depth of view.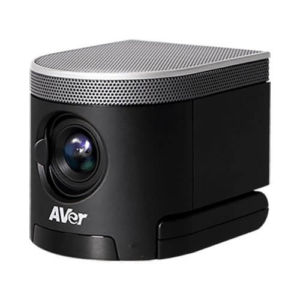 Pros:
4x digital pan-tilt zoom
Auto white balanced for improved color in various lighting conditions
USB 3.0 or 2.0 with an MSRP under $500
Huddly IQ is an AI-powered conference camera that "delivers a video meeting experience like no other."

Pros:
 Includes a 150° wide-angle video and an embedded microphone
Genius Framing technology detects each person in the field of view and will respond by automatically framing them to create a clear picture.
Camera is small, sleek and blends in nicely with a variety of conference rooms
Automatic white balance and color correction
4x digital zoom
Adapts to poor lighting conditions
Visual noise filtering
Huddly IQ has no moving parts, making it compact and silent
USB-powered and compatible with any platform
Microsoft Teams and Zoom/Zoom Room certifications
 Cons:
Expensive
Challenged depth of view based on wide field of view
The Jabra Speak 710 provides HD quality and the omni-directional microphone can pick up voices from every direction.

Pros:
Compatible with nearly every video conferencing software program on the market
Intuitive plug and play connectivity
Immersive sound for calls and music
Ideal for voice, music and multimedia
Provides 360-degree coverage and picks up sound from every angle
HD voice/wireband audio provides high-quality sound
Cost-effective as the unit is around $319 MSRP
A user can wirelessly pair two speak 710s to create stereo audio or extend the microphone pickup on a conference table (which means that can also cover a medium-sized conference table)
Cons:
Control buttons on the device can confuse users versus using the Teams Room controller or Zoom Room controller to adjust audio or mute mics.
USB cable is tethered to the device, which is good because it will always go with the unit; however, this makes it challenging to extend or modify the USB cabling length or route
Consider the Poly CALISTO 7200. The device is more cost effective, sounds fantastic, includes four directional microphones to capture participants and has a genius locking mechanism for the USB cable, which also allows the cabling length to be modified and routed easier for a fixed installation.
Other recommendations include the Poly X30 as this device does not need a PC or Mac to drive the room and includes microphone, camera, speaker, and controller.
Another device to consider with a smaller all-in-one design is the DTEN D7, which is a 55″ touchscreen, making the tabletop in your small room even cleaner.
Medium-to-Large Rooms (for 7-15 people)
As your meeting room gets bigger, you'll need more than just simple microphones and speakers mounted on a monitor or installed on a wall.
Holding meetings with more than six attendees means that people will be spread out more and likely too far away from the microphone for it to pick up their voices. And since there will be a lot of voices in the room, the wrong microphone setup could pick up gargle and side conversations which will disrupt productivity.
Our Equipment Recommendation
Crestron Mercury is one of our top video conferencing hardware choices for medium-to-large rooms.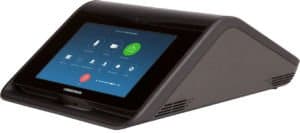 Pros:
High-quality speaker and microphone quality in a tabletop device
Audio quality engineered so that meetings sound like everyone is in the same room
7" touch control screen
Full-range speaker with a wide frequency response
360 microphone display with preloaded NUC PC and HD camera
Flexible and compatibly with may UC providers
Can be set up as a Zoom Room or Team Room controller (depending on the specific model)
The device can natively register with any SIP VoIP phone system
Cons:
 Large console placed in the center of the table
Great for a full-range speaker and touchscreen but can seem large in some rooms
Other recommendations include the Nureva HDL300, which provides exceptional mic/speaker capabilities for medium-to large-rooms. Another option is the AVer VC520 PRO, which includes a 12x optical zoom and pan-tilt camera along with an exceptional sounding speakerphone that can be daisy chained for coverage up to 30′.
Large, Flexible Workspaces (for 15+ people)
If you're conducting a meeting with upwards of 15 people or more in one room, chances are you can't risk the delays and inconveniences that come with technical inefficiencies. You'll need to bring out the big guns — that means multiple ceiling microphones and speakers.
Our Equipment Recommendation
The Parlé TCM-X Ceiling is great option for really large groups.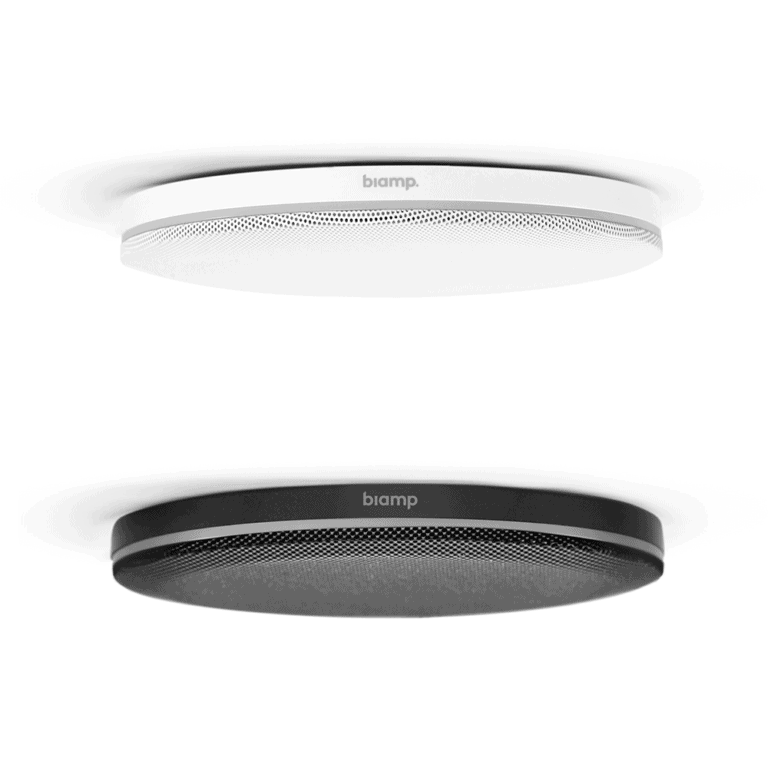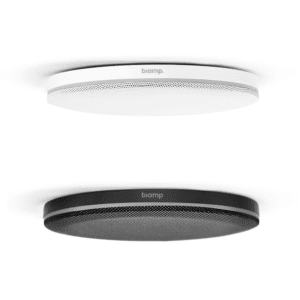 Pros:
Four 90-degree zones for full 360-degree room coverage
Sleek, unobtrusive design that mounts to the ceiling
Allows participants from the far end to experience the conversation as they would a face-to-face meeting
Well suited for a variety of rooms
Cons:  
Works using AVB, so DSP (ideally Biamp) is required
TCM-X mics don't perform best when the ceiling is more than 10'
Can only daisy chain one additional mic off the primary mic
Other recommendations include the Nureva Dual HDL300 and Sennheiser Team Connect 2.
How Many Rooms Do You Have?
Now that size is out of the way, it's time to focus on quantity. If you have 20 conference rooms, the last thing you want to do is implement different technology setups in all of them.
Adding the latest equipment to one room while the rest remain outdated is going to create competition for that single room. On top of that, employees who are accustomed to using certain devices in one room may face delays or difficulties in more modernized conference rooms.
To ensure that the user experience for every conference room in your building is as consistent as possible, you should develop room standards. That means determining the best video conferencing equipment for all of your different sized rooms. With room standards in place, your employees won't have to learn several different types of technologies and you can avoid room scheduling issues.
Finding Equipment Brands You Can Trust
There are hundreds of video conferencing equipment manufacturers out there, so how do you find one that you can trust?
Support is one of the most important factors. What if one of your speakers fails to work the day before a huge board meeting? Will the manufacturer send you a next-day replacement or will they make you wait two weeks for a service call?
The brands we've recommended are ones that we've worked with for years. From the latest technology to meticulous engineering, brands like Shure, Crestron, AVER and Poly have proven to be reliable partners because of their commitment to our customers. We encourage you to explore product reviews to get an idea of a brand's customer service standards and product replacement guidelines.
Or, just talk to our experts! DGI has customized video conferencing equipment setups for more medium-to-large conference rooms than we can count. We can install the latest technology in your office and make sure it's easy to use for everyone on your team.
Send us a message to find out how we can apply our skills to customize a solution for your conference rooms.