COVID-19 continues to impact daily life across the globe and here at home, with perhaps the greatest burden on our frontline essential employees. Healthcare organizations have struggled with shortages of critical personal protective equipment (PPE).
To help meet the needs of our healthcare heroes, DGI and their partners procured and delivered 20,000 KN95 masks to the following organizations: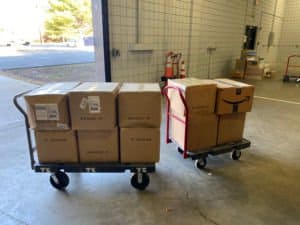 New Hampshire National Guard
Cambridge Health Alliance
Boston Medical Center
UMASS Medical
Mass League
Mount Auburn Hospital
MEMA
North Country Health
Lawrence Hospital
Brockton Hospital
Beth Israel Hospital
Brigham & Women's Hospital
DGI Pivots Production Capabilities to Meet PPE Demands
DGI also converted one of its production lines for the exclusive production of clear protective face shields. DGI has already produced tens of thousands of shields with production now over 2,000 per day at the Billerica facility.
DGI is helping essential businesses in other ways, as well. They are working with supermarkets and retail stores to create signage promoting appropriate social distancing; DGI is also working with stores to create protective clear shields for checkout areas. In addition, DGI is assisting schools and businesses with free trials of Zoom and helping with equipment implementation.
DGI is helping businesses with work-from-home orders by providing the AV and communications products and services employees need to stay productive and safe. DGI's in-house response to the pandemic includes a shift to remote-work for non-essential employees, CDC-guideline-compliant workspaces in our facilities, and enhanced safety measures on job sites to protect both our workers and our clients.
DGI would like to recognize and thank the partners who helped fund and support the mask donation effort:
Macronet
Zoom
Windy City
Bill Stang of Windy City
Almo
Rob Leclerc of Crestron
Richard Dean Associates
NH Plastics
Barco
Tanya Auger
Andrew Kuan
If your business needs help adapting to changes due to COVID-19, contact DGI today for help with signage, technology and AV solutions to keep our community safe, healthy, and productive.