Healthcare facilities can be chaotic and intimidating. While staff are accustomed to the hectic atmosphere, patients and visitors may have a difficult time adjusting. Implementing traditional and digital hospital signage can help patients navigate the halls, ease their anxieties and understand available services offered.
Benefits of Hospital Signage
Taking the time and effort to add to–or enhance–your hospital signage strategy can help improve the patient experience, which will make your hospital more successful. Here's how:
Reduce Patient Anxiety
Whether you're a patient or a visitor, hospitals are one of the most anxiety-inducing places to be. Signage is a simple improvement to help reduce patient stress and anxiety.
Implementing a wayfinding system eliminates any fear of getting lost and help patients, visitors and new employees feel welcome and cared for with clear directions and information. You can use digital and traditional signage to show where certain services or departments are located. You can also clarify where access is limited to hospital staff or a specific visitor group.
Information eases patient anxieties, so taking the opportunity to educate patients and visitors as best you can is another way reassure them. Digital signage can display expected wait times in real time; stand-off displays can highlight images of friendly, caring employees. Ultimately, reducing anxiety will help improve the patient experience.
Focus on the Youngest Patients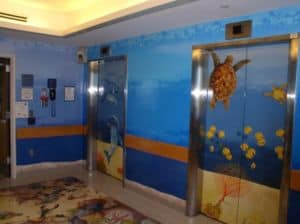 Is there anything scarier for a child than a cold hospital room or a giant metal medical device?
Children's hospitals and pediatric wards can utilize fun, colorful graphics and signage to make children feel more at ease. From jungle-themed wall murals to ocean-themed MRI machines, a pop of color and a cheerful design can make a world of difference for a nervous child. If children are more comfortable, their parents will also be more relaxed.
Educate Patients & Promote Hospital Services
Patients may be unaware of the full range of services you offer. There's no better time to tell them than while they're at your hospital. Are you holding a vaccine clinic? Have you recently hired an award-winning surgeon? Do you participate in community outreach or partner with other hospitals or care facilities? You can use digital signage, banners and traditional signs to let your patients and guests know.
Improve Internal Communications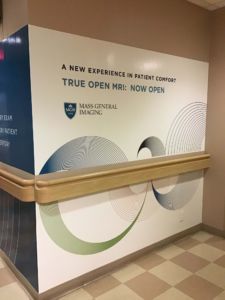 The better your internal communications, the better your patient outcomes. You can use digital signage techniques to inform staff about upcoming meetings, schedule changes, new assignments and other timely announcements. You can also utilize print decals on windows, floors, walls and doors to help alert staff to potential hazards or new foot-traffic patterns.
Improve Sound Quality
Enhance your signage by making it functional as well as informative, attractive and inspirational. Hospital audiovisual (AV) sound masking and acoustic management products can be custom printed or painted to complement your signage. Create quieter, more relaxing lounges, improve patient and visitor privacy, and offer your staff calming, productive environments for catching up on paperwork or getting some well-earned rest.
Hospital Signage Options
Now that you understand some of the main benefits, here are several techniques you can use:
Digital Signage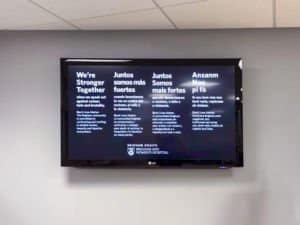 With advancements in technology, digital displays and LED video walls have become more cost-effective than ever before. Plus, they're quicker and easier to update than a manual system and can showcase fully customized content.
Some of the many ways hospitals can use digital signage is by:
Showing estimated wait times in waiting rooms
Educating patients and guests about upcoming clinics or events
Displaying maps or directions to help navigate the hospital
Adding interactive directories into wayfinding systems
Broadcasting emergency alerts and instructions
Internally, digital signage can be used instead of whiteboards in areas like nursing stations or operating rooms to show schedules, meetings or other notifications. In hospitals, you need to expect the unexpected, so a quick communication channel is of the utmost importance.
Wayfinding Signage
Large hospital layouts are easy to get lost in, especially if you're an anxious patient, a new employee or a restless family member.
Wayfinding hospital signage is a simple solution to help people navigate to where they need to be. This technique can include anything from room number signs to colored floor markings. Digital signage can also be used for wayfinding and allows you to quickly update any detours or off-limit areas.
Medical Device Wraps
Medical devices like MRIs and CAT scans can be intimidating for both children and adults. Adding custom-designed wraps can make the equipment and experience much more welcoming. This can help improve patient satisfaction and ease anxiety. Anxiety can cause the heart to race and blood pressure to rise, making it potentially harder to get accurate readings. Signage can play a role to reduce this stress.
Wraps can be applied to stationary equipment or portable devices. All it takes is an idea and a large format printer and you'll have a unique, more approachable device!
Outdoor Banners & Signs
You don't want visitors leaving their cars in reserved spots or drop-off areas, which is why hospitals should clearly label where drop-offs, emergency visits and guests should park. This avoids parking delays, congestion or the need to tow vehicles. This also decreases distractions to allow security and parking attendants to focus on everyday responsibilities. Weather-resistant signage can be quickly installed and won't need to be replaced for years!
Retractable Displays & Banner Stands
Promote health clinics, free testing services, fundraising opportunities and other announcements with banner stands and displays. You can use retractable displays for a portable, easy-to-store solution or add hanging banners to indoor or outdoor settings. As long as your banners are printed on the right material, there's no limit to where you can display.
Remember: Outdoor displays should be weather-resistant and visible at night, which is why you'll need to make sure you select the right materials for long-lasting signage.
Literature Holders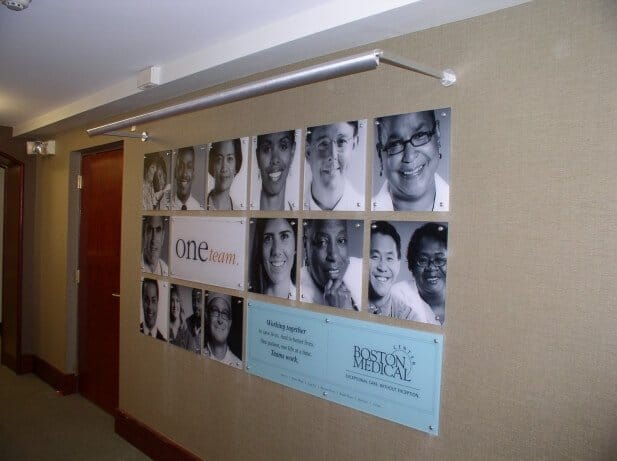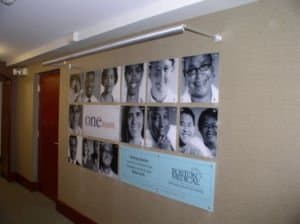 Create eye-catching displays to hold educational pamphlets, health guides and paperwork. Patients and visitors will be more likely to notice these resources if they're customized or stand out from a wall or table.
Wall Murals & Window Graphics
Blank, white hospital walls don't inspire comfort. Adding wall or window coverings to patient rooms, hallways, waiting rooms and other areas can create a friendly environment that distracts and relaxes patients. Using temporary decals or adhesive vinyl makes it possible to switch out décor every season or completely remove it if you choose.
Wall murals can also be used to honor hospital donors and foundations or to promote marketing campaigns.
Custom-Printed Sound Management Products

Custom cut or off-the-rack acoustic panels can be painted or printed with graphics and typography as well as solid colors and prints. Think of these products as functional signage that seamlessly integrates into your new or existing space and design.
Vehicle Wraps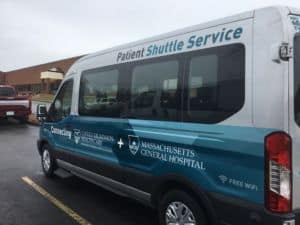 Hospital-owned vehicles are essentially moving billboards. Whether rolling down the highway or parked in front of buildings, they likely get thousands of viewing impressions every day from other drivers and pedestrians. Why not take advantage of this traveling advertising space?
Vehicle graphics and wraps are an effective and cost-efficient way to advertise. Our team has designed and implemented 3M™ vinyl graphics and wraps on nearly every type of vehicle, including cars, trucks, trains, vans, buses and even Volkswagen Beetles! With large format digital prints on 3M vinyl, you can apply any type of design, lettering or photo onto your vehicles. Since the vinyl application isn't permanent, your vehicle's paint job will be protected, and you can change your designs at any time.
Special messaging can be tailored to particular vehicles, encouraging mobile vaccinations, blood donations or healthy lifestyle choices.
Some Things to Keep in Mind
A successful hospital signage strategy will ensure you're in compliance with the Americans with Disabilities Act (ADA). If you're adding or updating signs or displays, just be sure they are easy to read, noticeable and in full compliance.
You should also think carefully about the designs you select and where they will be displayed. Colorful graphics and custom themes are sure to be engaging for pediatric patients, but older folks may not be as receptive to these designs. If you are including signage with hospital audio visual, you will want to be aware of the audio levels. You want people to be able to hear it, but not be overwhelmed.
Hospital Signage Examples
DGI has helped hospitals and healthcare facilities of all sizes create soothing, engaging displays that prioritize every patient's experience. To talk about digital signage or traditional signage options for your facility, contact us here. We're happy to help!