Break rooms are an essential part of any office and provide employees with space to rest, recharge and connect with their colleagues. And when a break room is well-designed, it can significantly improve employee performance and satisfaction, which benefits your organization's overall productivity and success.
According to research conducted by emerald insight, well-designed break rooms improve both employee morale and job satisfaction, leading to lower turnover rates and higher retention. Additionally, a study conducted by the Society for Human Resource Management found that companies that offered break rooms and other on-site amenities had a 28% lower turnover rate than those that didn't.
Break rooms also enhance employee creativity, focus and productivity. Studies have shown that taking regular short breaks throughout the workday increases energy levels, reduces stress and improves overall cognitive function. Not to mention the social benefits — these spaces are where employees can foster connections with coworkers. When employees feel connected to their colleagues, they're more likely to feel invested in the company's success and perform at a higher level.
So, how can you make the most of your office's break areas? Let's take a look at some design ideas, examples and tips that you can implement for your organization.
Office Break Room Types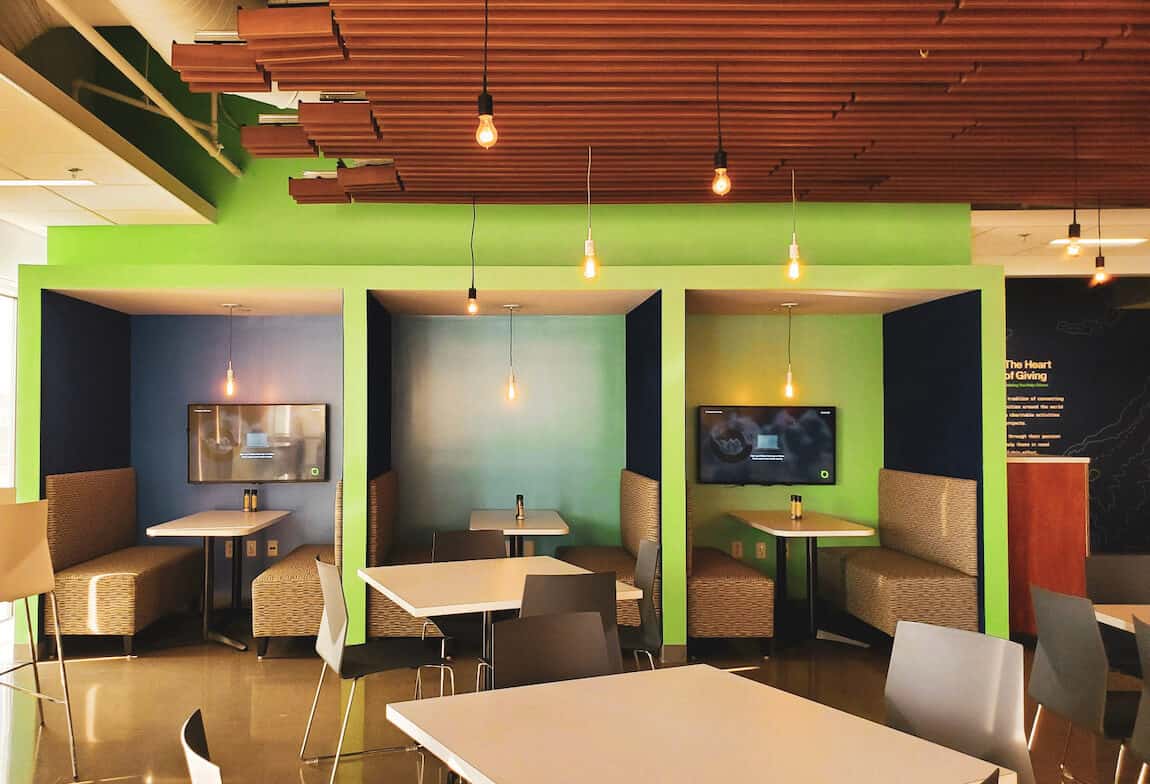 When it comes to break room types, each one has a unique purpose that fulfills different employee needs. Some workplaces may prefer to keep these common areas separate to ensure that staff members can fully use and enjoy each space.
On the other hand, combining areas can be an efficient way to create a multifunctional environment. For example, a break room may include both a lounge and snack bar or a collaboration space might feature a dedicated area for games.
Ultimately, the types of office break rooms and their configurations will depend on employees' needs as well as the resources and current design aesthetic of the workplace. Below are some of the most common.
Lounges
Think comfortable spaces with soft seating where employees can relax and unwind. Offer entertainment as appropriate to your workplace culture, such as magazines, books or a TV with streaming media.
Gaming Areas
The fun atmosphere that game areas create presents a refreshing change of pace for employees, especially if they work in high-pressure environments. Ping pong, foosball, video games and tabletop games are all great game room additions.
Kitchens
Office break rooms equipped with kitchen basics (such as microwaves, a refrigerator, sink, dishes, and so on) and a place to sit and eat enable employees to have lunch or a snack in a welcoming space. Adding stovetops, ovens and dishwashers ups the ante and allows employees to prepare their meals — and clean up easily, too. These appliances can also be used for team-building activities, such as cooking competitions.
Alternative Workspaces
Employees may want to have a working meal away from their desks or take a break from their cubicles. Alternative workspaces such as small private rooms or quiet corners can provide just the change of scenery they're looking for.
Collaboration Areas
These spaces are designed to encourage teamwork and brainstorming among employees as well as facilitate spontaneous meetings and discussions. Some common additions to these areas include whiteboards, couches and comfortable seating.
5 Office Break Room Design Ideas and Examples
1. Google Zurich's Break Room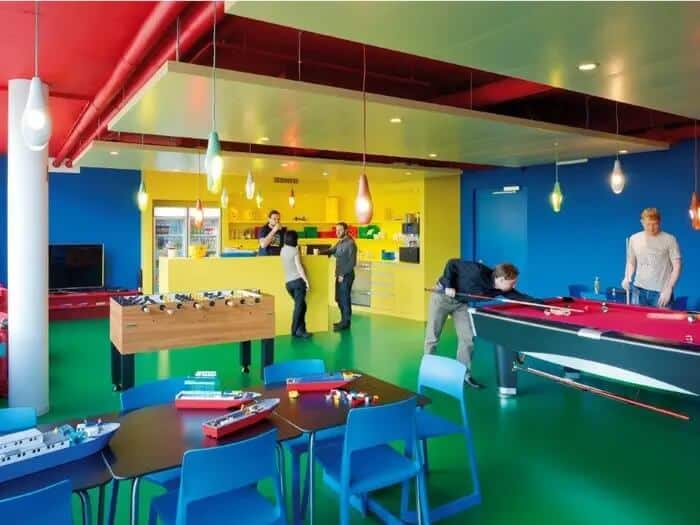 Google is known for its innovative office designs, and its Zurich office break room is no exception. The room features comfortable seating areas, a pool table and foosball. The use of bold colors, unique lighting fixtures and quirky decor make it a fun and inviting space for employees to unwind and socialize.
2. Dropbox's Break Room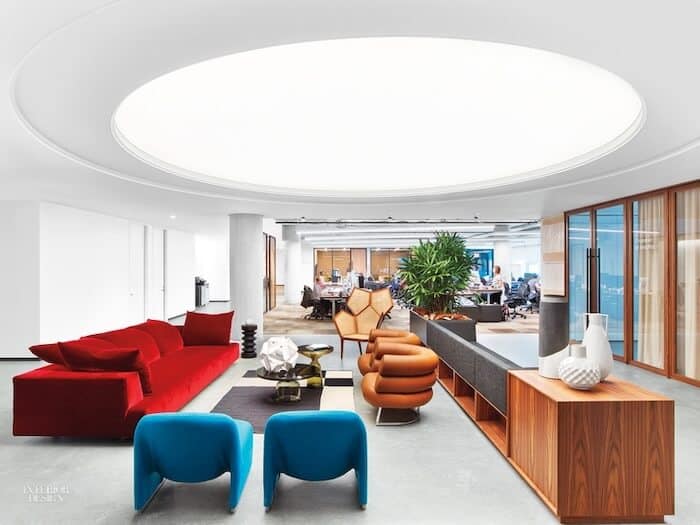 Dropbox's San Francisco office features a break room that incorporates elements of both midcentury modern and industrial design. The space features concrete floors, clean lines and wood panel accents. Comfortable seating, decorative vases and eclectic accent pieces round out the look, making for a functional-yet-stylish space.
3. LinkedIn's Break Room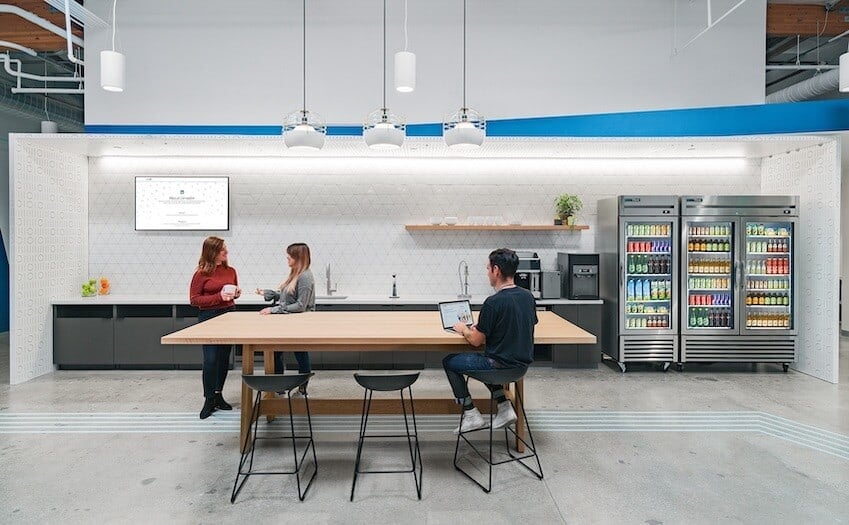 The LinkedIn headquarters in Sunnyvale, California features a break room that combines modern design elements with a minimalist style. The space features a communal table, kitchen area, and fully stocked refrigerators. Its open and airy atmosphere invites employees to relax and connect.
4. Airbnb's Break Room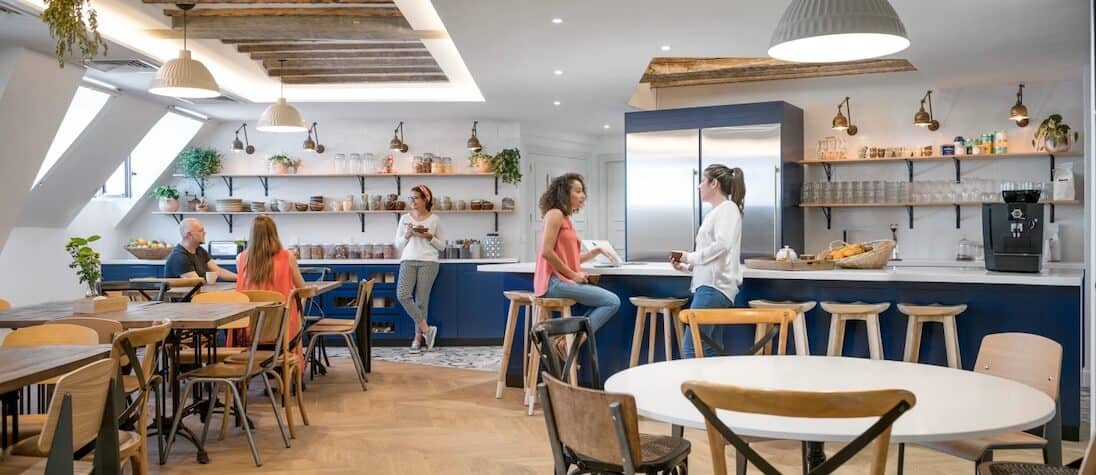 Airbnb's Paris office is home to this break room, where vintage and modern styles meet. The employees that work in this office love to peruse the local flea markets in their free time, and the design of the room pays tribute to this shared hobby with its eclectic mix of furniture pieces and Parisian loft ambiance.
5. Apple's Break Room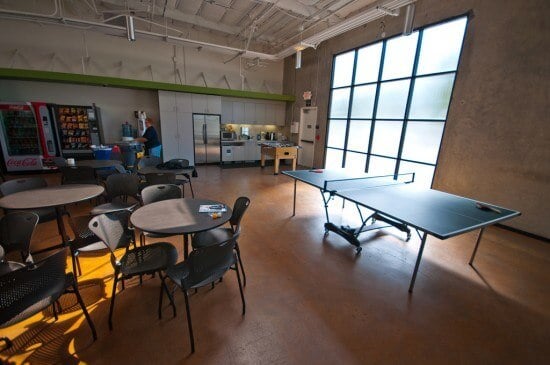 Apple's Cupertino, California headquarters features this no-frills break room that functions as both a kitchen and game room. The design is casual and uncluttered, creating a space where employees can unwind and recharge.
5 Employee Break Room Design Tips
A well-designed break room can positively impact employee productivity and morale. Here are five tips for creating spaces where people can disconnect from work, recharge and come back to their tasks feeling refreshed:
1. Create a Fun and Re-Energizing Atmosphere
Your break room should be a space that makes employees feel good about taking a break. Bright paint colors, inspiring wall art and comfortable seating arrangements can all help to create a welcoming and rejuvenating atmosphere.
2. The Importance of a Kitchen and Coffee Maker
A fully equipped kitchen with modern appliances and a coffee maker is essential in any break room. Employees expect to have access to these benefits, which can help boost morale and productivity. Don't forget snacks and other comfort elements such as music or a TV.
3. Seating Arrangements and Comfort
The break room should have a variety of seating arrangements to accommodate different types of activities, such as collaborating with teammates or taking a break alone. Comfortable seating is essential to make employees feel relaxed and at ease.
4. The Benefits of Natural Light
Natural light has great benefits for the work environment. It helps boost employee morale, productivity and overall well-being. Incorporating plants can also help create a more natural and peaceful environment.
5. Using the Space Efficiently
Break rooms can be designed to serve multiple purposes, such as relaxation, collaboration and entertainment. To get the most out of your space, consider incorporating furniture and equipment that's easy to rearrange for different activities. For example, a large table could be used for collaborative work during the day before becoming a place to play games in the evening.
By drawing inspiration from and implementing these design tips, you can create a space that helps your employees feel energized, refreshed and motivated. And with all the different types of areas to design for — whether it's a game room, alternative workspace, collaboration area or even a place to cook — the opportunities to design the perfect break room are endless.
Ready to turn your dream office break room into a reality? Contact DGI today to share your ideas with our expert team of design professionals.