Windows are frequently a coveted part of an office — thanks to the fresh air and natural light they let in — but while they can serve as a gateway to the world beyond your office, privacy is one feature most windows don't provide. Without the right treatment, anyone can see through your windows, which isn't ideal for businesses that value privacy.
Needless to say, in the workplace, discretion is important. Offer your employees, clients and guests the space they need with window treatments that secure your office's privacy.
How to Choose the Best Office Window Privacy Covering
When coming up with office window privacy ideas, there's a lot to think about. What size are the windows in your space? Do you want to block the sunlight or fill a room with it? Are you looking to use your windows as part of your marketing design? And that's not all — some other factors you'll need to consider include:
Energy savings: How much do office window privacy solutions offer?

Budget: What's the price range for different types of window treatments?

Office design: Does a particular solution align with

your vision for your space?
Office Window Privacy Films
One way you can increase privacy is by installing blinds or shades. Horizontal and vertical blinds come in a variety of materials, such as wood, faux wood, vinyl or plastic, which make them a good fit for multiple design aesthetics. Shades are typically offered in vinyl and fabric styles and can be a good choice if you're looking to block sunlight entirely. Both blinds and shades are inexpensive fixes for office privacy challenges but aren't as versatile as window privacy films.
These highly customizable cling films adhere directly to any glass surface, including doors, windows and partitions, and their uses range from simple DIY applications to large-scale professional displays. In any case, the installation process is simple and can be done with little disruption to daily business operations.
And the best part? You can personalize window films to meet your unique needs. For increased privacy, frosted, etched or stained glass-inspired options can provide the kind of space you need. Or if you're looking for a way to display your organization's unique personality, they can be custom produced to incorporate branding elements and colors.
So, what types of office window films are there? These are the most common options:
3MTM FasaraTM Glass Finishes: Available in more than 50 different designs, colors and patterns, these films provide privacy while elevating the look of your office space.
One-way vision film: Commonly called "window perf," this specialized window film enables you to see out but limits what those outside can see.
Lumar and MACtac glass films: These options are also available in a variety of custom finishes and standard options.
Benefits of Office Window Privacy Film
Installing window privacy film comes with several benefits for your office, including:
Limiting Direct Sunlight
While natural light can make your office space feel more open and airy, direct sun exposure for prolonged periods of time can lead to uncomfortable working environments for employees (not to mention the potential damage to furniture and textiles). Installing privacy film on external-facing windows is a great way to mitigate the effects of direct sunlight.
Enhanced Privacy
One-way mirror film solutions offer the most privacy, showing people looking into a space a reflection of themselves, while letting those inside easily see through to the outside. Other styles feature etched or frosted effects that obscure the inside of a room to passersby while allowing some light through. Films with lettering and images are still good for creating private spaces but may be less effective depending on the application.
Decorative Touches
Window films can bring a stylistic touch to your space by mimicking the effects of art glass and featuring various decorative styles, motifs and patterns. They can also show off your organization's branding and display quotes or images that share your message with visitors, guests and potential customers.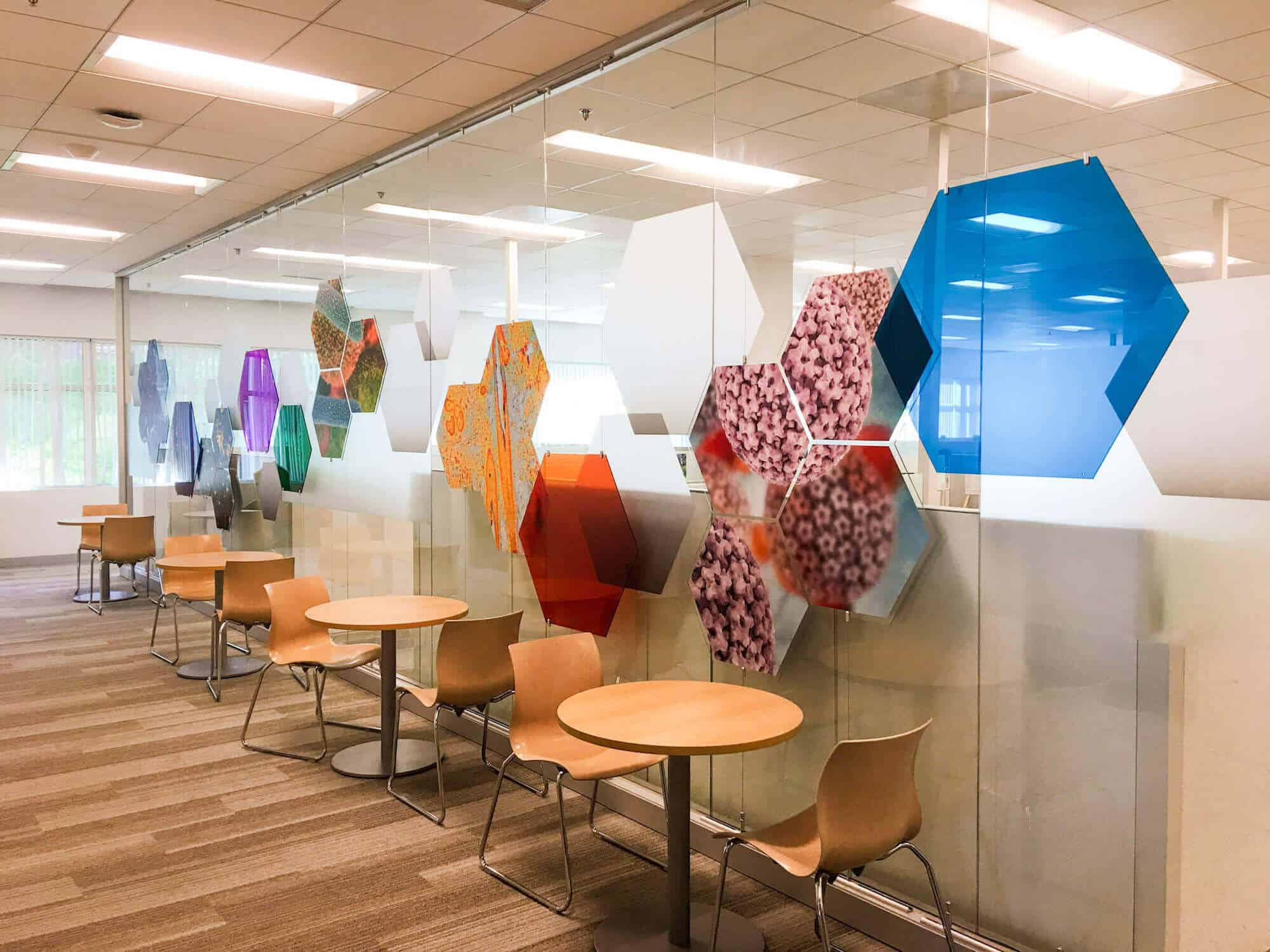 Choosing the right office window privacy option for your business can make a significant impact on your workspace, and DGI Communications' team of industry-leading design and installation professionals is ready to help navigate potential solutions. Contact us today for your personalized, effective office privacy window strategy.