The primary function of signage may be to communicate your brand information, but it should also make a great impression. Blurry images and creased displays look unprofessional and can be distracting from your messaging.
With endless signage options to outfit your trade show booth or promote your retail location, it can be challenging to stand out from the crowd. A bold, modern signage option gives your brand the advantage, but what's the best choice? This is where silicone edge graphics (SEG) shine.
What Are Silicone Edge Graphics (SEG)?
Why Use SEG Over Other Graphic Options?
How Are Silicon Edge Graphics Made?
Where are Silicon Edge Graphics Used?
How Are Silicone Edge Graphics Costs Determined?
What Are Silicone Edge Graphics (SEG)?
SEG graphics are seamless, vibrant, photographic-quality fabric signage that command attention. They are printed fabric graphics with a thin silicone beading sewn around the edge that fits into the SEG frame, keeping the fabric secure and virtually borderless.
Why Use SEG Over Other Graphic Options?
High-quality: SEG are borderless, glare-free, wrinkle-free and viewable from all angles. Dye-sublimation printing produces photo-quality imagery by using heat to transfer ink directly into the fabric. "Dye-sub" produces vibrant, long-lasting, fade-resistant images.
Flexible: Swapping graphics in and out of your frame is easy. No need for a new frame every time – you're ready for changing events or seasonal marketing.
Striking: The borderless appearance and crisp, clear imagery means your audience sees a clean, modern display.
Cost-efficient: SEG frames break down for shipping, providing less bulk for shipping cost savings.  And, when you are ready to change out your graphics the fabric graphic is all that needs to ship resulting in easier transportation of your finished graphics, saving you time and logistical money.
Customizable: SEG frames and fabric can be custom designed to fit your space or trade show booth installation and work well in many different applications. Options include large backdrops, full wall coverage, portable tabletop displays, free standing displays both single or double sided or LED backlit graphics that pop.
Easy to use: SEGs are lightweight, and the fabric can be folded for travel, just like the clothes in your suitcase. The frame does the work to ensure your graphics are sleek and wrinkle-free when you set them up.
How Are Silicone Edge Graphics Made?
Silicone edge graphics are printed on custom-cut tension fabric using high-resolution, dye-sublimation printing. A thin silicone bead is sewn directly to the edge of the fabric. The custom-extruded aluminum frames are made with grooves to receive the bead on the edge of the fabric, creating a borderless appearance and stretching it drum-tight for a smooth, wrinkle-free look. Because the frames are custom extruded, they can be made in almost limitless sizes and shapes, including dimensional pieces that command attention.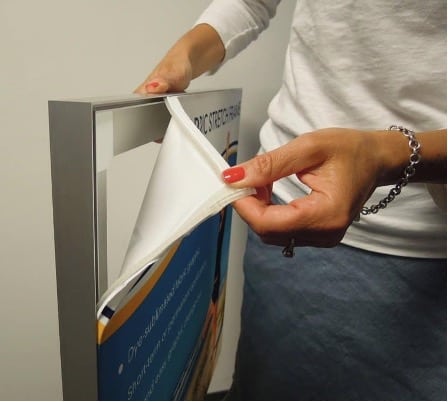 Where Are Silicon Edge Graphics Used?
Retail and Showrooms: From large-format wall images and hanging display images to point-of-purchase displays and backdrops, SEG is a clean, easily-updated option for long-term branding or seasonal marketing. Backlit options make graphics stand out to shoppers.  DGI's work with L.L. Bean shows off how striking and versatile SEG applications can be.
Trade Shows: Lightweight and always professional-looking SEG can be custom-created to fit your trade show installation. They're easy to travel with or ship and can be set up without additional installers.
Museums: Bring art to life in marketing campaigns that display true-to-life color and imagery. Entice guests with previews of installations in bold, bright color.
Homes and Offices: Create a mural effect with a Silicone Edge Graphic in your home, or cover a lobby wall or conference room with your brand or office art.
Stadiums, Conference Centers, and Event Destinations: Streamline transitions from one sporting/event season to another with frames that support multiple graphics. Backlit images bring color and vibrance to guest spaces and team offices.
How Are Silicone Edge Graphics Costs Determined?
Costs are determined based on the type, size and complexity of SEG you desire. Factors include:
Shipping and printing needs
Single vs double-sided graphics
Wall mount or free-standing
Standard, front-lit or no lighting
Frame size and material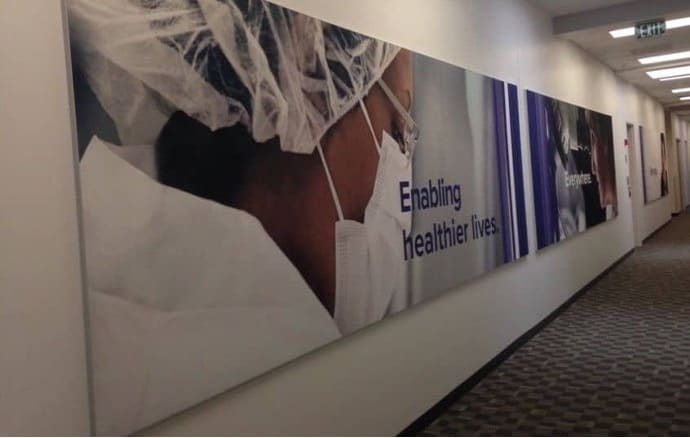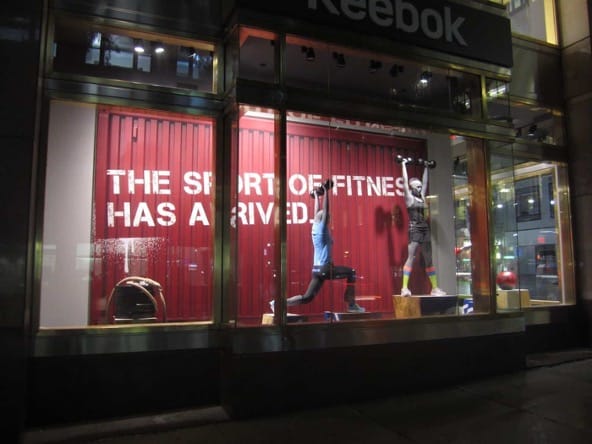 The high-resolution, photo-quality imagery of silicone edge graphics are a modern signage solution for retail and office spaces, marketing and trade-show or other portable applications. Combined with their ease of use and affordability, they're a great investment to communicate your brand and message in your space or on the road. Contact DGI today to start planning your next SEG project.