Did you know that we've been creating the iconic finish line for the Boston Marathon since 1999? This past year's marathon was especially close to our hearts, with our very own Account Manager, Katherine Bell, running in the race for the first time.
Katherine completed the marathon with an impressive time of 4 hours, 42 minutes. "It has been a personal goal of mine to run a marathon, and being able to cross the finish line of the Boston marathon, of all marathons, was a dream realized," Katherine said. "The fact that DGI is the provider of the finish line is an added bonus. Having the support of the company and all of its unbelievable employees made crossing that finish line both an accomplishment for myself and the company."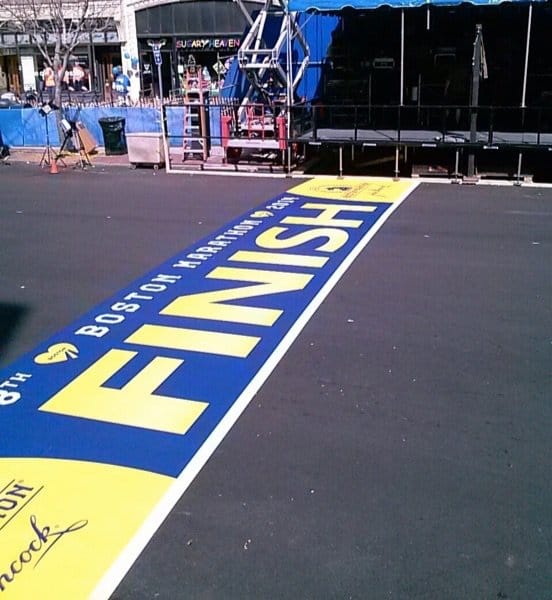 The finish line material — which was originally selected by 3M™ — allows for a high-quality, color-rich digital image. This particular 3M media is engineered for durability, which is crucial with thousands of people running across the finish line in only a matter of hours!
Every April, the DGI team beams with pride as we put the finishing touches on this crucial piece of the event. As a predominant symbol of the city of Boston, #BostonStrong, and Patriots' Day, it's an honor to be a part of this historic event.
Ready to get started creating memorable graphics and signage for your brand? Contact us to set up a time to discuss your project or to visit our showroom.