An exceptional college classroom design requires exceptional thinking. But what does this mean, exactly?
Modern classroom design invites students to engage with not only the instructor and the material, but with the wider campus and the world around them.
When deployed thoughtfully, a more holistic approach to college classroom design can make a greater impact on learners when compared to traditional classroom design. This means taking into consideration the needs of your institution, all of which can improve student retention, assessment outcomes, and completion rates.
6 College Classroom Design Ideas
1. Make learning spaces flexible
2. Foster collaborative environments
3. Embrace tech-friendly spaces
4. Introduce principles of comfortable environmental design
6. Consider sound quality and visuals
6 College Classroom Design Ideas
1. Make learning spaces flexible
A flexible college classroom design supports many learning styles that benefits students; it also allows colleges and universities to offer more courses in a broader range of disciplines without adding new spaces.
When educational spaces can be used for more than one subject or kind of lesson, classroom design enables a multi-purpose space that supports lectures, discussion groups, project-based learning and multimedia presentations.
Here are some simple ways to achieve a more flexible classroom design:
Install desks, tables, benches and chairs on casters. Being able to rearrange the furniture with minimal fuss is the ultimate flexibility, allowing an instructor to change up the format mid-lesson.
Flexibility isn't just about the furniture. Consider wall surfaces that can double as writing or hanging surfaces. Encourage creativity and out-of-the-box thinking with products like window clings and films that turn a wall of windows into a brainstorming surface.
Learning isn't finished when class ends. Designing spaces with interactive whiteboard displays, accessible multimedia technology, tables and benches allows students to continue their work on their own or as a group outside of scheduled classes.
Variety is the spice of learning. Consider different types of seating within a single space. Some students will thrive at a desk while others may prefer to work on a stool at a counter-height workbench. Others may opt for a chair with arms or an old-school side desk for taking physical notes.
2. Foster collaborative environments
Many of the principles of flexible design also apply to collaborative spaces. Learning spaces equipped with communal tables and whiteboards provide students with opportunities to work together on group projects, share study and research materials and enhance one another's learning experience.
Mixed use spaces with breakout tables or seating clusters — and open layouts that allow for interaction, debate and conversation — are perfect for discussion or study groups. Providing students with the tools and spaces to work together not only gives them room to succeed in class, but also teaches them vital skills for the modern workforce.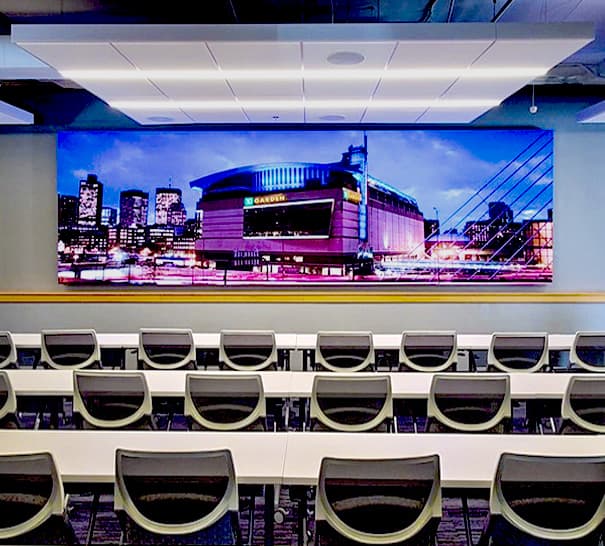 3. Embrace tech-friendly spaces
Take a page out of corporate hybrid work and unified communications strategies. Connected classrooms can bring outside lecturers and presenters into the classroom from all around the world. Teleconferencing software and robust hardware to support it unites remote and hybrid learners with their on-campus counterparts, building a sense of community.
Quality makes a difference. Improvements in LED and AV technology translate to a wide array of affordable displays, speakers and teleconferencing hubs to remove AV issues as a learning roadblock.
Power supply and connectivity matters. Provide power stations to keep students' devices running and opportunities for them to easily connect to communications hubs, cameras, displays and other tools that empower them to learn.
4. Introduce principles of comfortable environmental design
We often talk about a learning environment in the abstract, but the physical space is just as important. Improve comfort and mood by including these environmental factors in your college classroom design:
Light — Natural light via windows, skylights or man-made sources is known to have positive effects on student wellbeing and productivity.
Air quality — Proper ventilation and filtration are a high priority in a post-pandemic classroom setting, but air quality doesn't end there. Fresh air by way of windows or open classrooms (where weather-appropriate) can do wonders for student morale and focus.
Natural elements — Evoke nature with art and building or decorating materials, like natural wood and stone or images of water and foliage. Take advantage of natural vistas out the window when you have them.
Color and texture — Be intentional when it comes to choosing a color palette for your college classroom design. Think beyond institutional color schemes and play with shades that reflect your school's colors. Choose tones that support quiet and focus on your learners, or go with bolder, brighter shades that excite and energize, depending on the space. Comfort, in moderation, can aid focus. With that in mind, choose ergonomic shapes for chairs and stools, and upholstery and surface textures designed for comfort and easy cleaning — no one likes a dirty seat!
5. Go with the flow
Connect classroom spaces to lounge and multi-purpose spaces to allow learning to flow from the classroom into daily life in a natural way. Where classroom design is thoughtful and intentional, every public space on your college campus can be part of a unified educational experience.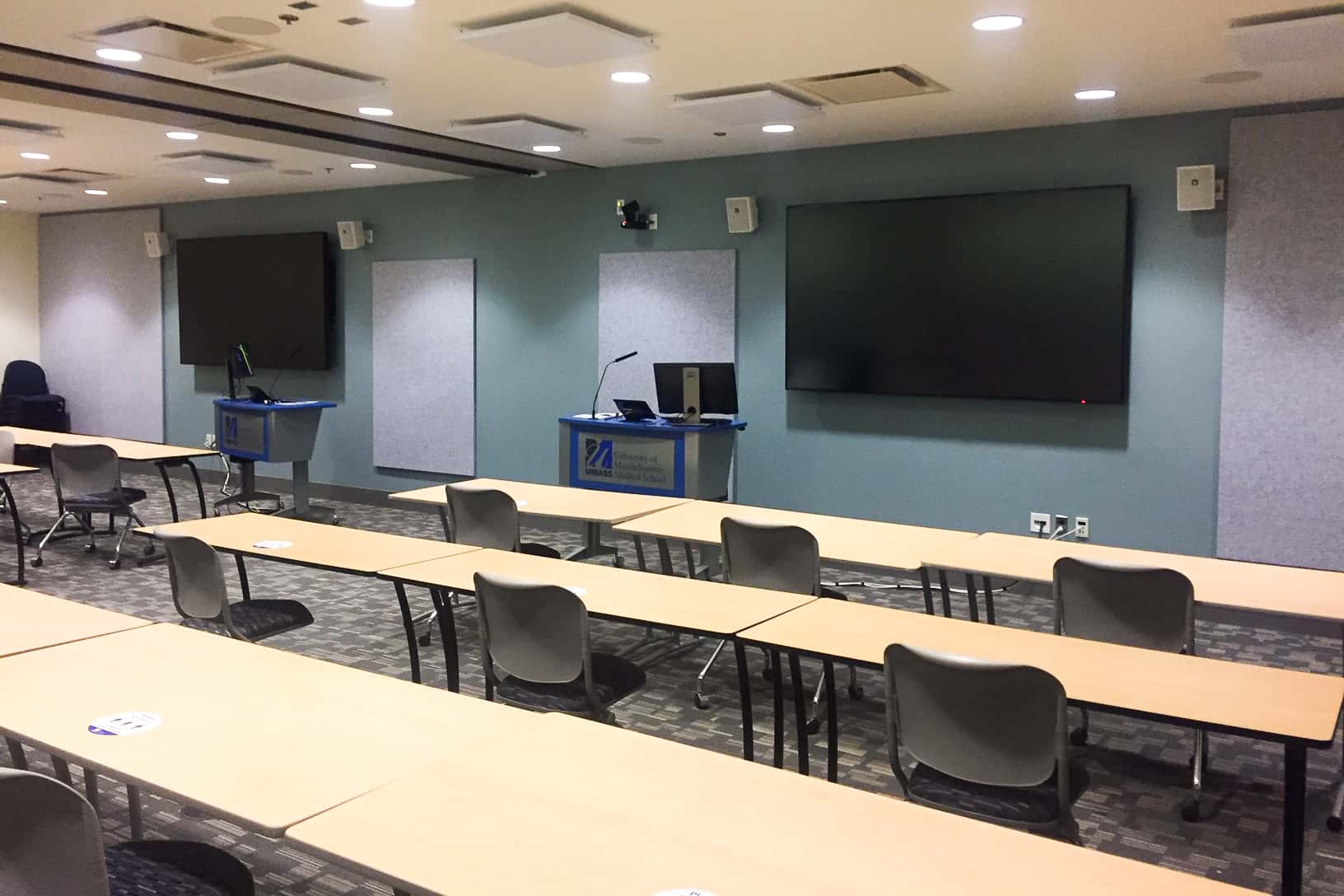 6. Classroom AV: Quality Sound & Visuals
Reduce echo and noise pollution using acoustic management products. Wall panels, hanging acoustics tiles and three-dimensional pieces, or ceiling fixtures can keep outside noise distraction at bay and make hearing the instructor or remote presenter less challenging in a less-than-acoustically-perfect space. These products can also help students focus when the noises outside their learning spaces are loud and distracting.
Ready to Get Started? Contact DGI Today!
If you're ready to discuss these inspirations with a partner experienced in AV and media design, DGI is waiting to hear your ideas. Our goal is to bring your concepts to completion using the highest quality products and services available. Contact us today to get started.