The retail landscape is constantly evolving. With consumer dollars migrating online, it's more critical than ever to make your brick-and-mortar presence stand out.
Whether you're a one location storefront or a national retailer, your displays can drive revenue and inspire customer loyalty — or the opposite. With advances in large format printing, traditional retail displays have changed dramatically, enhancing the consumer experience with immersive branding. New options like LED video walls can capture and engage potential buyers with dynamic, vibrant content, especially when combined with cutting-edge audio-visual designs. Let's take a look at some important considerations for selecting the right displays, designs and partners for your retail establishment.
A variety of physical mediums but one message
Gone are the days when retail displays amounted to standard-sized glossy posters. Vinyl, fabric, magnetic-backed media, glass and metal are some of the display elements used in today's retail environments.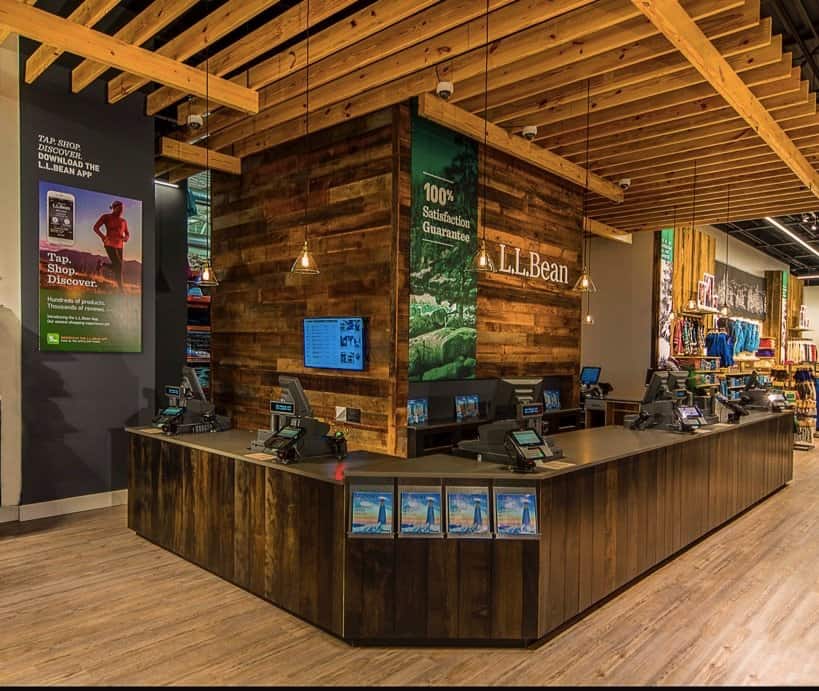 When LL Bean wanted to liven up their retail space, they employed multiple mediums while maintaining flexibility so graphics could be easily shipped and changed out at the store level quarterly. LL Bean used a combination of permanent graphics and seasonal designs, including custom-printed brushed silver panels, thin acetates with stand-off hardware, dimensional lettering, vinyl decals, direct UV prints, ultraboards and dye-sublimated fabric banners. The result was an on-brand message and welcoming sales environment.
Let there be light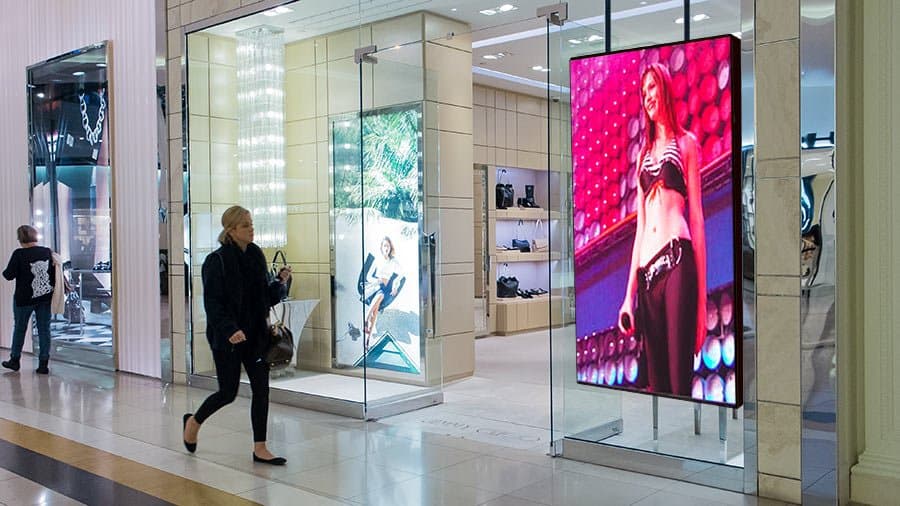 Lighting is a key element to your retail store. While most light displays are static, a video display can make all the difference when it comes to driving foot traffic.
LED video walls are surprisingly affordable and ideal for in-store promotions, products, services, events and sales. Since multimedia screens use video and animation in addition to rotating graphics, you can offer long-form content. Video screens can even be interactive, offering additional details about your brand and content. LED walls won't take the place of your static traditional displays, (you don't want to turn your store into Times Square — but if you do DGI can help!) but they can accentuate the choices you make with your static in-store graphics.
Don't forget the hardware
The best retail environments create an immersive sensory experience. Sound, smell, sights and tactile displays combine to allure and convert your potential buyers.
To coordinate all of those elements requires a cohesive audio/visual strategy. Thoughtful audio speaker placement within the store establishes a consistently enjoyable experience. The right acoustic paneling can help balance the volume level across the store while adding an appealing visual element. You don't want one part of your store to sound like the front row at a rock concert while the other side sounds like a library.
Finally, technology helps your store run efficiently. Whether it's a modern point of sale (POS) system keeping the checkout moving, or equipment to keep your inventory management software running fast, skimping on technology can take a welcoming space and turn it into an inefficient, uninviting waiting room.
Choosing a partner
For all of these solutions, it's critical to have a partner who understands not only each design and display element, but how they work in concert with your in-store technology to create the ultimate retail experience.
DGI Communications combines New England's premier large format printing team with the region's top AV and technology integrator. As one partner making it all work together, DGI can ensure that your design choices align to dramatically grow your sales.