Every stadium's branding is essential when it comes to making an impression to win over fans and advertisers. Whether it's a brand new arena or an older facility getting an upgrade, a stadium's signage speaks volumes. The right design can positively impact your sports venue and the teams who call it home. And in 2022, details matter, whether you're going digital, traditional or both.
Graphics that provide concise, easy-to-understand directions and policies keep your guests immersed in the fun, not bogged down in the details. The right message keeps fans and advertisers excited to come back year after year.
The style of your signage sends a message about the quality and professionalism of your organization, such as a vibrant, crisp logo that showcases your team's colors. This starts with a digital file and a professional print service with expert project managers.
Popular Signage Types
Create a strategy to deploy a full suite of visual products that put your branding to best use. Let's take a look at some creative options:
Environmental Graphics: Branding a stadium is impossible without environmental graphic design. Environmental graphic design visually connects people to their surroundings by simultaneously informing and evoking an emotional response.
Environmental graphics at Anna Maria College
Wall Murals: Blank walls present an opportunity to promote your brand. From simple logos to complex graphics that celebrate the history of your organization or your connection to the community, wall murals transform unsightly areas of older spaces and elevate interior and exterior wall spaces from functional to fantastic.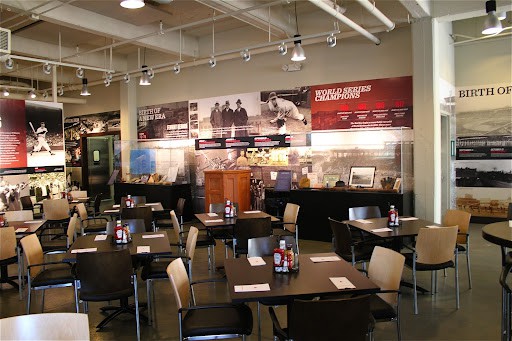 Wall Mural at Fenway Park Royal Rooters Club
Wall wrap at Fenway Park Royal Rooters Club
Stair Risers: Getting from here to there is more than a physical journey. Give fans something to connect with either up close or from across the stadium by applying signage to your stair risers. Display your logo or use a flight of steps to share a visual narrative.
Boston Bruins and Celtics logos line the stair risers at TD Garden
Dasher Boards: Hockey fans will take note of the branding and advertising displayed on the dasher boards. Give sponsors 360-degree exposure by repeating a pattern of advertising and team branding around the perimeter of the rink.
Advertisements on the dasher boards at TD Garden
Fence Mesh, Wind Screens, and Barricade Covers: The visual conversation between fans and the stadium starts long before they scan their tickets. Catch their eye and their attention as they're entering or leaving the venue.
Mesh fence wrap at Gillette Stadium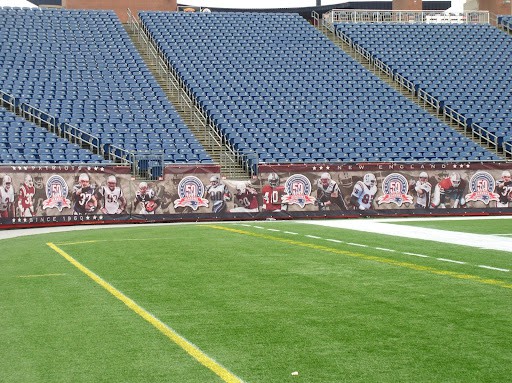 Mesh fence wrap at Gillette Stadium
Concourse Signs, Retail Signage, and Banners: Vinyl, mesh or cloth banners and front lit or backlit signs can be used to brand press boxes, unused seating areas and hang in concourses and atriums to display messaging of all kinds. These types of signage can signal seasonal or special events in addition to more evergreen branding.
Backlit concourse sign at Gillette Stadium
Bruins pole wrap and wallpaper at TD Garden
Floor Graphics: Level-up wayfinding with floor graphics that draw fans through your space. Combine a marketing or advertising campaign with directions to make navigating your space fun, informative and profitable.
Media Backdrops: Keep all eyes on your stadium branding no matter what event you're at with a media backdrop that features your logo(s) in vibrant color.
Vehicle Wraps: Take your team's logo or the venue's name on the road when you travel with custom printed vehicle wraps to fit your vehicle or fleet.
Celtics/Comcast Sports vehicle wrap
Window Graphics: Window graphics allow you to transform your plain windows into branded pieces of décor. Films that can be applied to the inside and outside of your windows in a variety of colors, finishes and custom prints.
An advertisement for Bruins ticket sale on a window wall
Window graphics at TD Garden Proshop
From the locker room to the dugout, the penalty box to the press box, hospitality concourses to parking and seating, your stadium is ready for graphic design that makes a lasting connection between fans, the venue and the teams that play there. When you're looking for a partner, either to freshen up your existing stadium or start from scratch with a new build, DGI's design and tech teams are ready to help you tackle the visual branding.