An ideal workspace combines company culture, innovation and aesthetics to enhance the employee experience and motivate your team to bring their best work to the table.
A thoughtfully considered work environment not only acts as a physical ambassador for your company's values and mission, but it can also help your organization attract and retain top talent and loyal clients.
What makes an ideal workplace? That depends on what industry you're in, the kind of physical space your office is in and how your team is organized. With those core tenets in mind, here are 10 concepts to consider as you work to create the ideal workplace for your most valuable asset — your people.
Quick Navigation
1. Design a Flexible Workspace
2. Incorporate Natural Elements
3. Get Creative with Graphics
4. Utilize Acoustic Management
5. Audio Visual (AV) and Information Technology (IT)
6. Color and Comfort
7. Wellness Options
8. Define Designated Areas
9. Personalize Conference Rooms
10. Home Office Tips
1. Design a Flexible Workspace
Flexible workspaces wear many names — co-working spaces, open or shared workspaces, desk-shares or hot-desking — and can support both in-office and hybrid teams. Instead of individual cubicles or private offices, flexible workplaces have fewer barriers and obstructions.
Many of today's workplaces are transitioning to flexible workspaces to foster better communication, colleague relationships and accommodate flexible work schedules. Empty offices or cubicles are not an efficient use of space, so the open concept is an ideal modern office layout.
Just as every business is unique, so are their office layout needs. It's important to consider the type of space that suits yours best. For example, flexible workspaces are beneficial for collaboration and teamwork, but may not be ideal for heads-down independent work.
Through careful design choices, workspaces can enhance productivity and boost relationships instead of causing unnecessary distractions. The trick is settling on the right layout that supports your company's team and vision.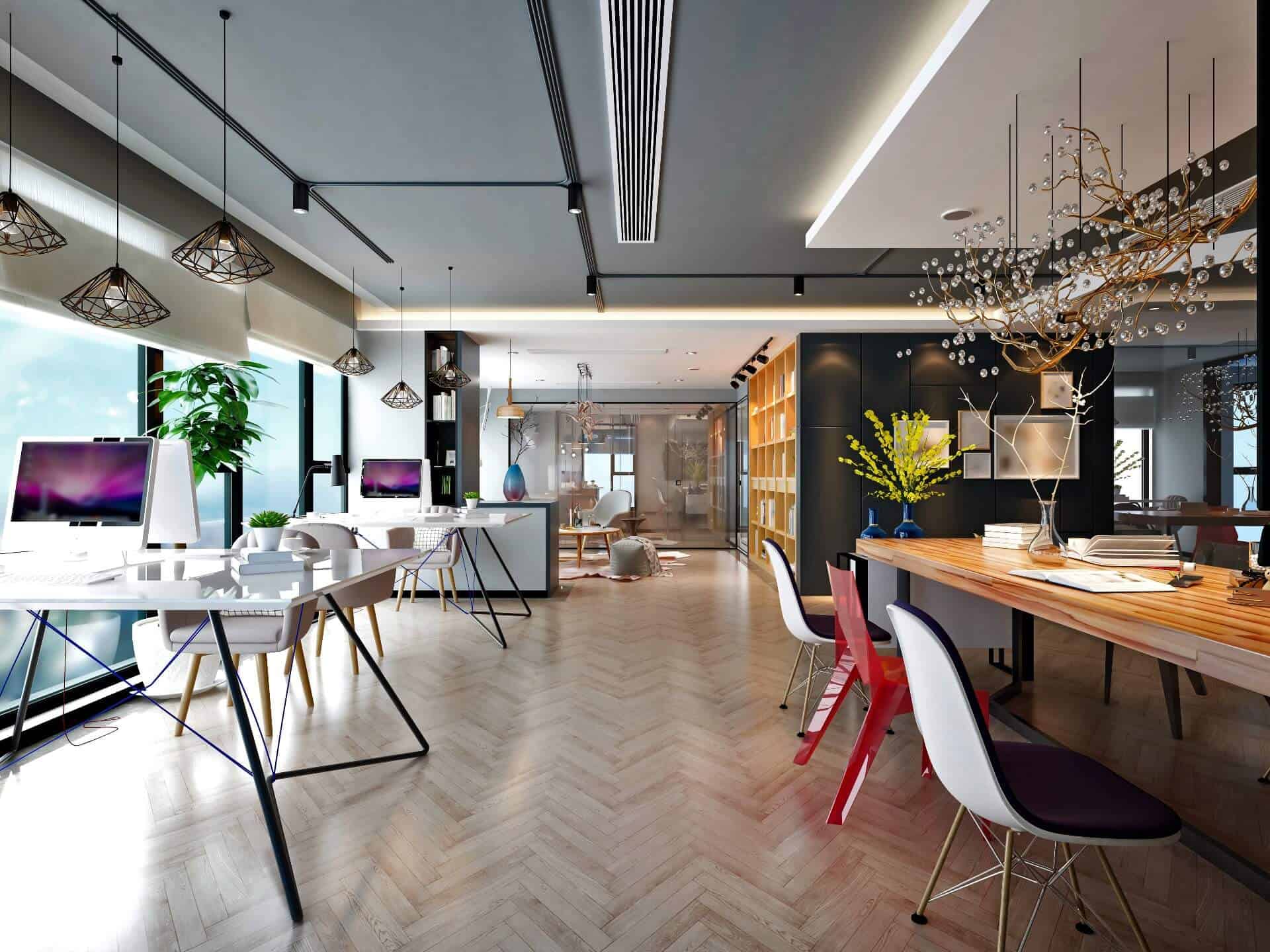 2. Incorporate Natural Elements
Bring the outside in by incorporating natural elements into your workspace. There are many ways to do this, depending on what's the best fit for the space. Natural elements in an office can improve cognitive function, have a positive effect on a person's mood and creativity and lower stress. There are endless ways to incorporate natural elements in an office workspace, which include:
Plants, flowers and greenery
Natural materials like wood for flooring, furniture and decoration
Water elements like fountains or small water features
Natural light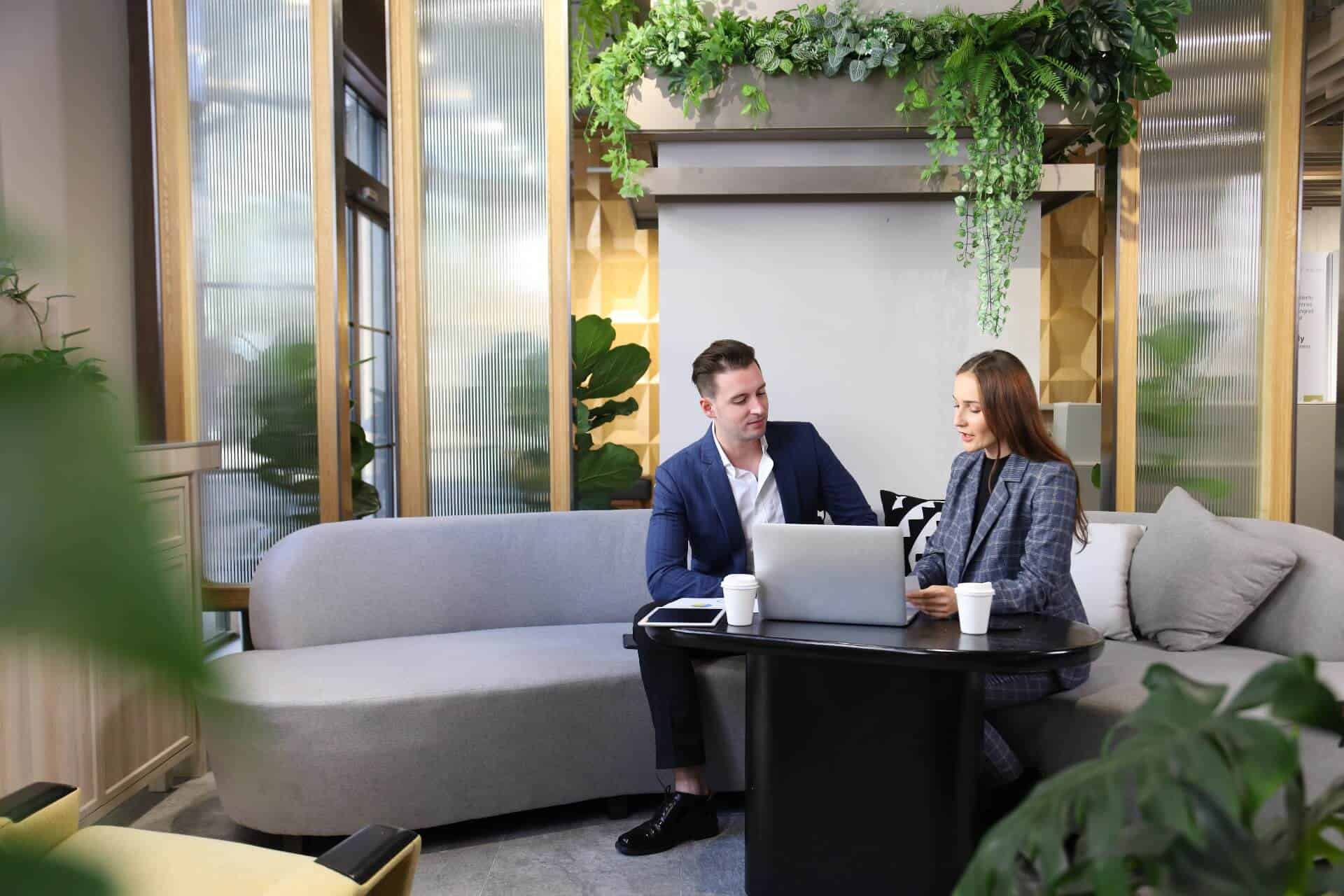 InterGen incorporated plants and natural lighting in their waiting room to create an airy, natural feel.
3. Get Creative with Graphics
Transform empty walls with custom wall coverings. Walls present a perfect opportunity to creatively highlight your company's mission and values, spotlight regional landmarks, celebrate local history and so much more. You can inspire your team with motivational quotes or tell the story of your founders with wall panels, column wraps or sound management products.
A few additional popular graphics include:
Wayfinding
Branding opportunities
Highlight employee or team accomplishments
Company history
Local artwork
Graphics also add visual appeal, create an environment that encourages collaboration and well-being and can function as privacy enhancement or acoustic management.
NEFC's office has a unique word branding wall that draws the eye.
Hologic HQ has a unique timeline wall that transforms an empty space into a visual masterpiece.
Colorful wayfinding at Simmons College.
A dimensional letter logo with an aluminum finish at Foundation Medicine's offices.
Beautiful skyline.
4. Utilize Acoustic Management
An ideal workspace can help mitigate the everyday stresses of work. Sound quality is a crucial piece of the stress-reduction puzzle. Noisy spaces are distracting and can negatively affect productivity. Privacy and information security often depend as much on well-managed acoustics as on a closed door.
Assessing the noise pollution in your workplace and mitigating any issues with modern sound management products — custom-colored or printed panels and architectural elements which dampen or mask sound — creates a lower-stress space where creativity thrives.
Decorative acoustic panels in the DGI HQ office.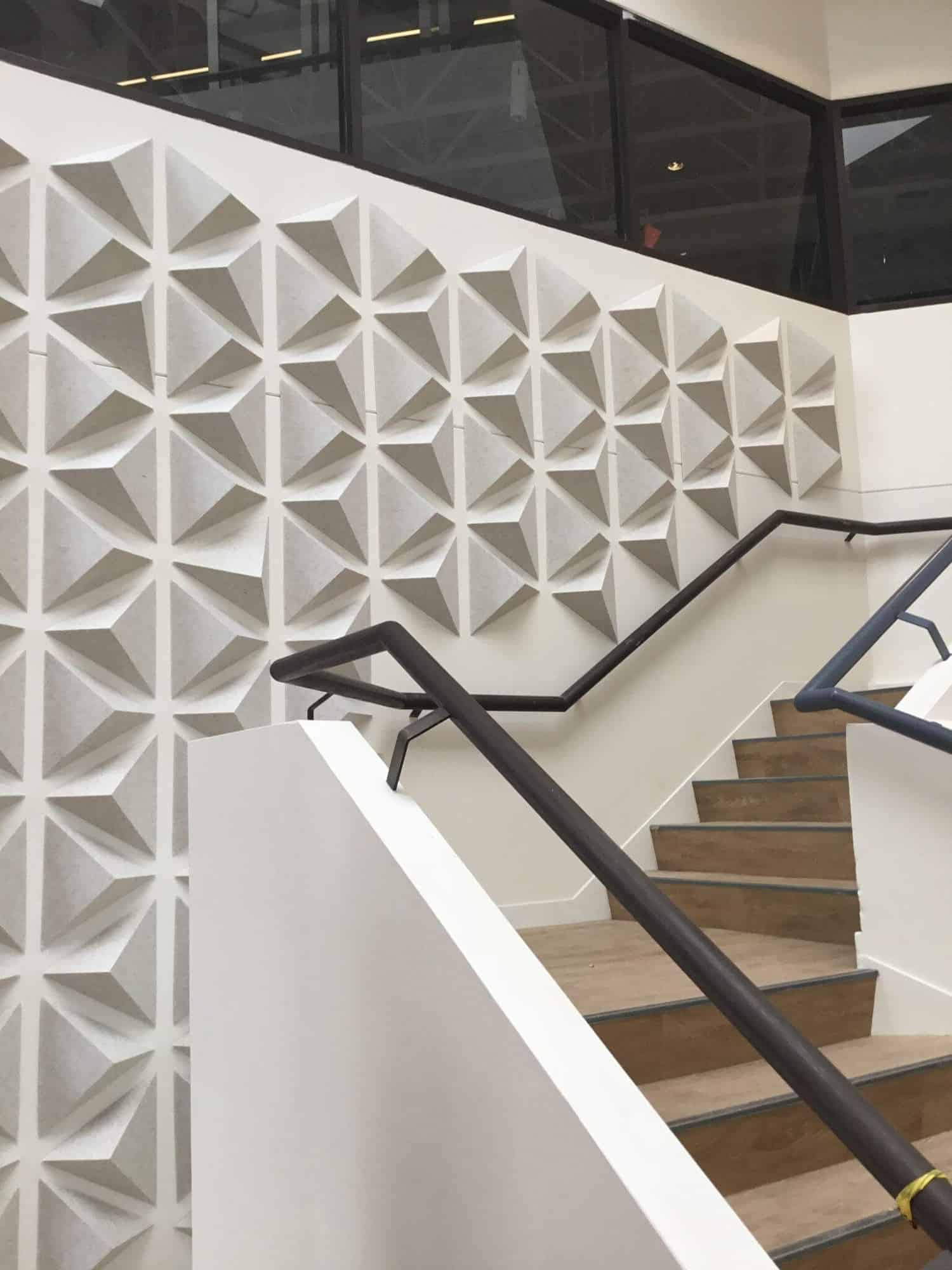 Acoustic panels in a stairwell.
5. Audio Visual (AV) and Information Technology (IT)
The ideal workspace simplifies workflows. This sounds simple, but technological innovations develop and adapt quickly. Staying on top of the best products and hardware keeps your team working smarter — not harder. From LED walls and displays to modern-day conferencing technology, providing the right tools for your team to do their jobs is a huge step towards creating the ideal workplace for your organization.
6. Color and Comfort
The ideal workplace doesn't settle for outdated, uncomfortable office furnishings. Savvy leadership knows color and texture affect mood and behavior. A comfortable atmosphere can help employees stay focused on a task, instead of seeking respite from their workstations.
Chances are your branding already takes color into consideration. Think strategically and intentionally about how you want the color to evoke emotion and affect mood, then incorporate those colors into your workspace. Consider texture and pattern when you're choosing furnishings and accessories to complete your aesthetic.
7. Wellness Options
From standing desks to smart snack options, employees want amenities that support their health and wellness. Many modern offices have an exercise room for a quick workout, stretching or group yoga. In addition to a space to move their bodies, employees appreciate healthy snacks like fresh fruit, yogurt, flavored carbonated water and more. These simple additions can make coming into the office a more enjoyable experience for employees.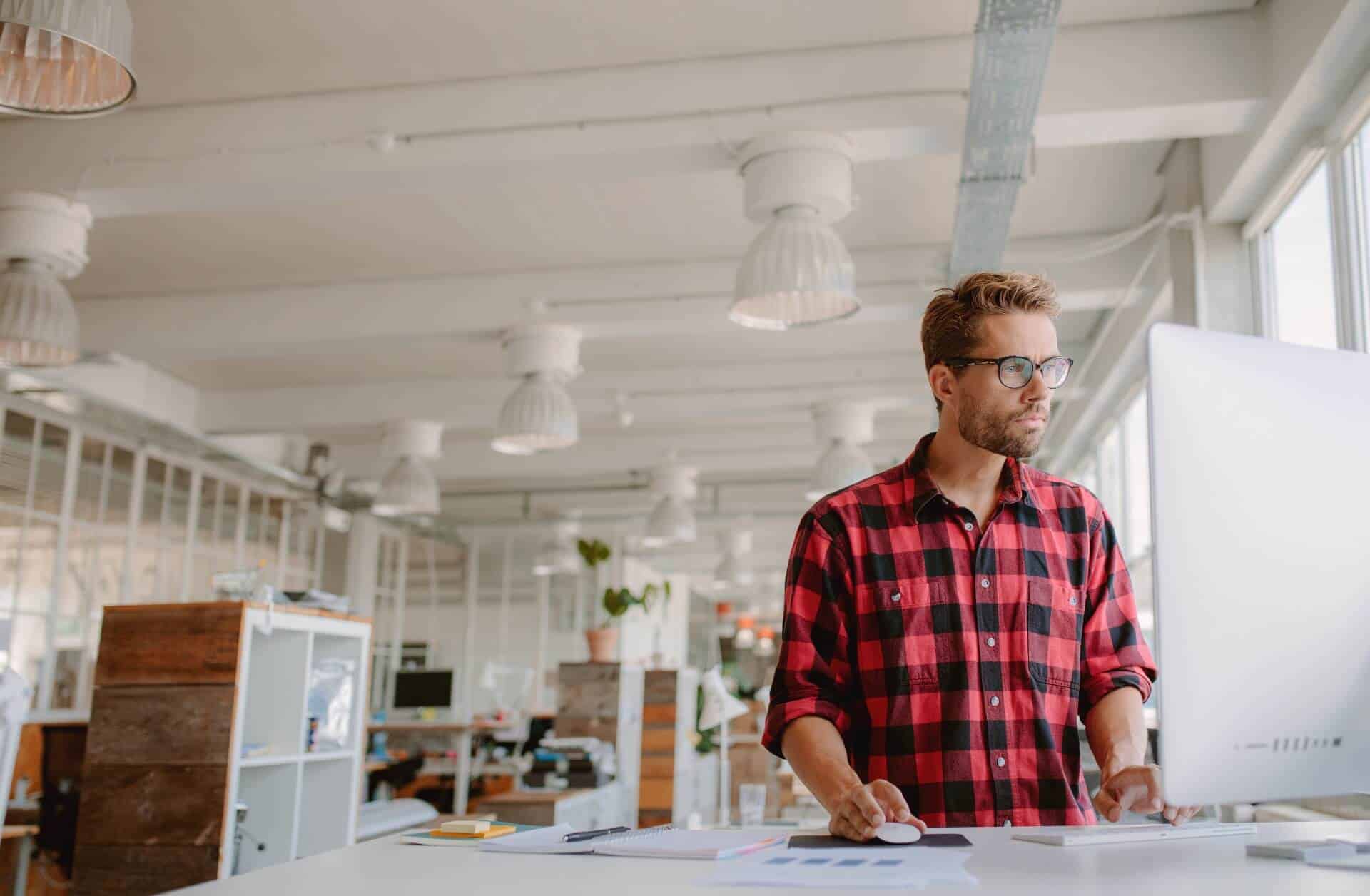 8. Define Designated Areas
Designated areas allow employees to work in their preferred environment.
Offices should have designated spaces, such as:
Quiet areas for peaceful, heads-down work.
Collaborative spaces for informal meetings or brainstorms.
Break rooms like a café, cafeteria or lunchroom.
Conference rooms for formal meetings.
Lounge areas where employees can destress and enjoy downtime.
9. Personalize Conference Rooms
Picture this: you have a two-hour meeting and are dreading it, not because of the actual meeting, but because of the freezing, white-walled conference room, uncomfortable chairs and no natural light. Luckily, there is an easy fix.
Add some character to your conference room with color, biophilic elements, innovative AV and IT solutions and comfortable furniture. There are unlimited options to making conference rooms more personable, including the following:
Create a unique theme for each conference room, like a local destination or popular movie.
Pay attention to lighting. Harsh lighting or not enough lighting can cause headaches and other discomforts.
Provide a small refrigerator with snacks. This benefits both employees and any clients that may be in the office for meetings.
10. Home Office Tips
As work from home and hybrid work schedules become more popular, it's increasingly important for employees to have a dedicated workspace at home. For many, working from the couch or dining room table comes with a host of distractions. We recommend the following tips:
Have a decluttered dedicated working area with a desk and access to power outlets.
Take breaks as you would in the office for water, lunch and more.
Stay social! Schedule "coffee chats" or virtual lunches with team members to stay in touch.
Keep a work-life balance. Work when you normally would, and let your family know when you are and aren't available.
Make sure you have a professional background for meetings.
Your team is the beating heart of your organization. Show them how you value them by creating their ideal workspace. DGI's decades of graphic design, acoustic management and AV technology can help you elevate your office to the workplace they deserve. Reach out today to get started.