Branding is more than specific colors, fonts and logos. Branding is a visual representation of a company, its culture, products or services, mission and values, and so much more. A company's branding isn't just used for marketing and advertising, it's also used in the physical space.
It's time to think beyond your company logo. Office branding is about connection and adapting your physical space to match your organization's core mission. Let's explore how a thoughtful approach to office branding can strengthen company-employee relationships, tell the story of your organization's values, inspire consumer confidence and drive results.
Quick Navigation
Why is Office Branding So Important?
How to Implement Corporate Office Branding
Office Branding Ideas

Why Is Office Branding So Important?
Office branding and workplace design go hand-in-hand. A good office design can help energize and support company culture. But a great office design creates spaces with a sense of community that makes your employees and customers feel valued. When employees believe in your company's values, commit to your mission and are loyal to your brand, success will naturally follow. Office branding works in tandem with design to achieve that faith and commitment.
Modern workers and consumers are more aware of how design affects their daily life, so it's no surprise that less tangible design elements are a significant factor in their on-site working experience. A well-branded workplace helps employees feel comfortable, invested in the mission and inspired to do their best work. Plus, a study by CBRE found that over 70% of the workforce is willing to give up some benefits for a well-designed workplace.

How to Implement Corporate Office Branding
Because office branding is such an important visual representation of your company, you'll want to choose design materials and tools that reflect your office design priorities. For example, what makes more sense in your physical space, an LED wall or a mural? Are there needs in the office that aren't being met, like natural light or biophilic design elements?
One option is to hire a concept-to-completion partner like DGI to help you take your ideas to the next level. Another option is to take on the project yourself by reviewing your existing office branding and developing a new strategy in-house, sourcing all of the products, materials, furniture and accessories from scratch. There are free and paid design programs to fit every budget.
Whether you do it yourself or hire a professional design team, here are some thoughtful ways to implement your office branding:
Custom images for promoting company celebrations
Team-building movie night? New product rollout? Let everyone on-site know about them with custom images and infographics for everyone in the workplace. Show gratitude when your teams hit important benchmarks or close deals. SEG graphics, glass clings and LED walls are great starting points for this kind of messaging.
Recognize your greatest asset: your people
In addition to showing gratitude for work-related achievements, don't forget to celebrate your workforce on a more personal level. Celebrate employee birthdays on your LED displays or post a photo feed from your team's charity event. Create an inclusive, on-brand company holiday outing and make sure your team is ready to celebrate! If your company taps an employee of the month, your office branding should include that.
Reinforce your core mission
Large format graphics like SEG graphics, banners and LED installations, or more temporary products like clings or interchangeable frames, bring your company's goals, priorities and culture to life. Seeing is believing, after all.

Office Branding Ideas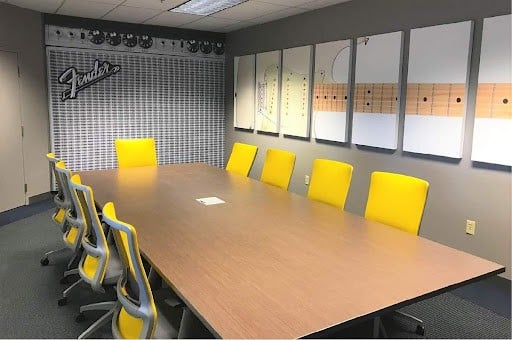 DGI was inspired by Fender to create this immersive guitar and amp-themed conference room. The bold, large-format graphic and creative, guitar-themed acoustic paneling, paired with the colorful, modern chairs, elevate this conference space from merely comfortable and functional to a space that fully reflects Fender's brand.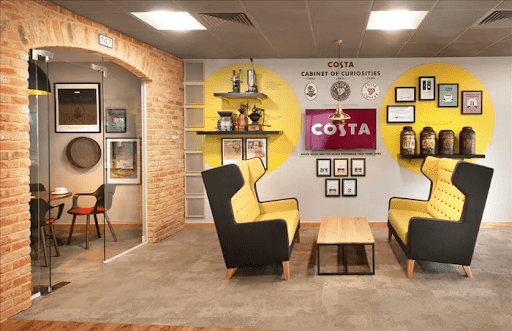 Costa Coffee's offices feel like a playful upscale neighborhood coffee shop, with a mix of work and recreational spaces, and design colors and materials that echo the look and feel of their locations.
HubSpot's waiting area incorporates their branding colors with clean, uncluttered furniture that's welcoming for their guests. LED screens display the HubSpot logo when not in use with other information. This approachable, business-casual design meshes with HubSpot's position as "an ecosystem uniting software, education, and community to help businesses grow better every day."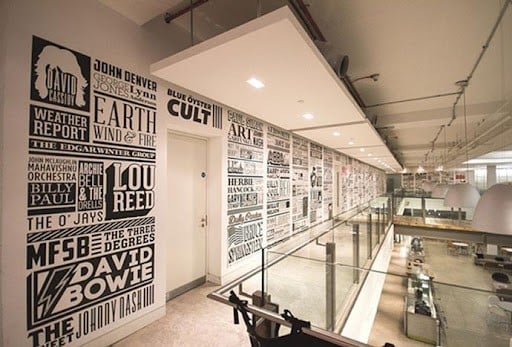 Sony Music UK's offices feature an upper gallery wrapped in a timeline of the artists who have a history with the company. It ties into the minimalist, industrial feel of the space and immerses employees in the company's storied legacy in the music industry.
When you make thoughtful, proactive office branding a part of your overall office design, you're letting your employees, investors and customers know that you value your team and the work they do. Make your workplace a reflection of your brand in every way and create a physical space that genuinely reflects your company culture. Contact us today to get started bringing your vision of a branded office design to life.